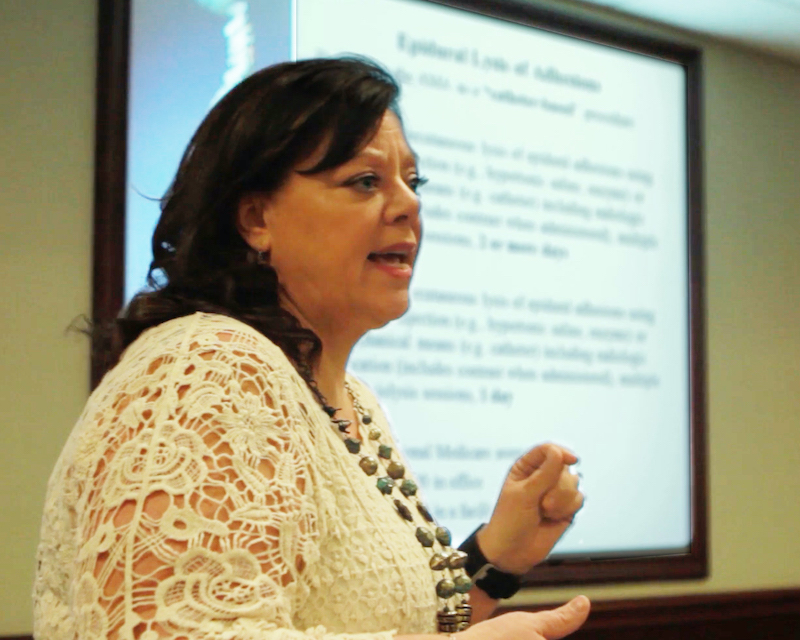 Lecture
by Luminary Physicians
Lab instructors are selected from a palate of lifelong-earned career relationships and are matched to topics based on experience and practice. They take time to explain how the procedure works, their actual patient experiences, and prognosis for successful outcomes. All attendees are encouraged to join these discussions and ask questions.
From the moment you step into the O.R., our instructors immerse you in procedure protocol. Each physician is given the opportunity to watch our luminaries work, then attempt procedures themselves under the careful supervision of the instructor.
The lectures offer decades of experience coupled with in-depth device knowledge. Our instructors are typically lifelong Epimed customers, and they've got actual experience using Epimed products.
Racz Lab provides vital information about coding and billing, payer policies, and practice management. Learn about practice marketing and building coalitions with societies to secure the long-term acceptance of the power of interventional pain medicine.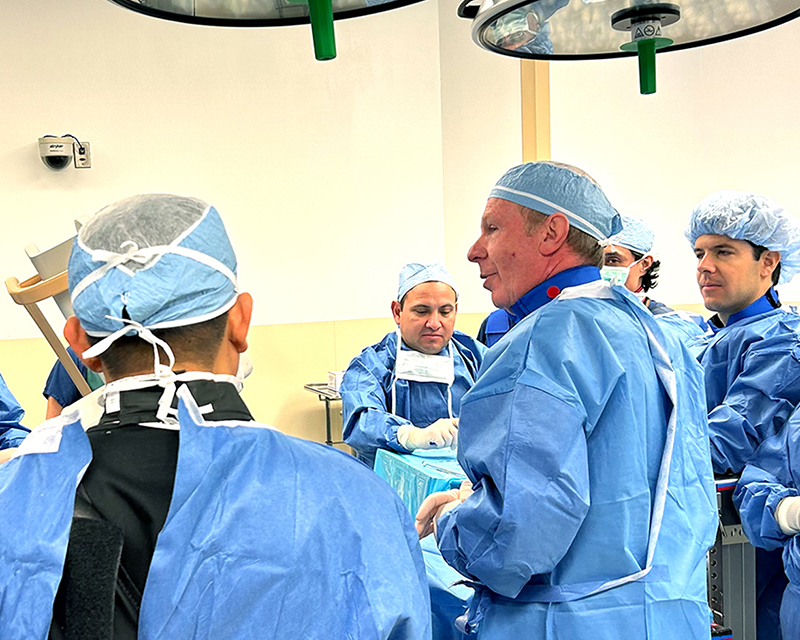 Cadaver Training
At each lab, Racz cadaver training is the centerpiece of the event. Just like we seek out and utilize the best materials for our products, we strive to acquire the best specimens for our instructors and attendees. Racz Lab uses cadavers to provide a realistic training environment.
The Lab features and introductions to procedures (led by instructors) prior to any lab work. Instructors provide attendees with a solid academic briefing, encouraging feedback and interaction from the group.
Attendees continue to praise the cooperative and supportive nature of instructors on Racz Lab post-event surveys. We hand select instructors known for patience and openness.
Pain Physicians all over the world have attended Racz Lab to learn or expand their interventional pain skill set under the instruction of Racz workshop physicians. From beginners to advanced skill levels, Racz Lab engenders a healthy and open environment for attending physicians. Our guests learn each phase of a selected procedure from a luminary pain physician and are encouraged to then practice with one-on-one guidance.
Mert Akbaş, MD, FIPP

Dr. Mert Akbas is an Associate Professor of Anesthesiology and Pain Management Physician at Akdeniz University School of Medicine in Turkey. He joined the Akdeniz University faculty in 1993, and is the Associate Professor and Clinical Instructor at Division of Algology.

He earned his medical degree at Akdeniz University School of Medicine in 1999 and started his pain management fellowship program first as an observer doctor at Texas Tech University Health Science Center in Pain Management Clinic, Lubbock, TX. Later on he served as a clinical Doctor at Istanbul University Faculty of Medicine, Division of Algology, Istanbul, Turkey.
Dr. Akbas is a Pain Management Board Certified Pain Specialist and is the current Secretary of the World Institute of Pain in Turkey.

Robert Rapcan, MD, FIPP, MBA, PhD

Dr Rapcan currently works at EuroPainClinics / Norrlands University Hospital, Sweden EuroPainClinics (EPC). It is an independent healthcare network clinic with a first-class record of achieving quality, innovation and efficiency in providing interventional pain healthcare to patients. Our Clinical Advisory Board consists of five members – Theodor Gorozseniuk, Andrzej Kroll, Ash Shetty, Arun Bhaskar and Sherdil Nath. Clinics are located in Slovakia (Bardejov, Kosice, Bratislava) and Czech Republic (Prague, Hradec Kralove, Ostrava and Brno). EPC provides specialised interventional pain diagnostic/ treatment services and movement impairment diagnostics and treatments. At EuroPainClinics he performs all mini – invasive spine procedures including epiduroscopies and advanced endoscopic procedures (discectomy, facet and SI joint denervation). In collaboration with University Hospital Bratislava, Neurosurgical Clinic, he also provides complex neuromodulation care, including implantations of spinal cord stimulators for not only FBSS but also for pelvic, abdominal pain and headaches.

Dr Rapcan is also teaches endoscopic procedures for MaxMore company (Germany) and neuromodulation for Medtronic (USA). Eight weeks a year he works at the Norland University Hospital in Umeå, Sweden in a position of Consultant Anaesthesiologist and Pain Medicine.

Miles Day, MD, DABA, DABIPP, FIPP

Dr. Miles Day serves as the Medical Director of the Grace Health System Pain Management Center. Dr. Day is board certified in Anesthesiology and Pain Medicine by the American Board of Anesthesiology.

Dr. Day earned his undergraduate degree at the University of Texas in Austin and received his medical degree at Texas A&M University Health Science Center. He completed a general surgery internship at Texas Tech University Health Sciences Center as well as an anesthesiology residency and pain fellowship. After wrapping up the fellowship, Dr. Day stayed at Texas Tech to serve on the staff. He currently serves as the Pain Medicine Fellowship program director and Professor of anesthesiology and pain managemen

Matthew Rupert, MD

Dr. Rupert completed his interventional pain management fellowship under the guidance of world-renowned Gabor Racz, famous for the Racz or Lysis of Adhesions procedure, at Texas Tech University. After finishing his fellowship, Dr. Rupert continued his training to include extensive certification in interventions, coding, compliance, practice management and opioid management (DABIPP). He has also trained through the World Institute of Pain to obtain the precious Fellow of Interventional Pain Practice (FIPP #280).

Dr. Rupert worked for two years with Total Pain Care in Mississippi and then joined the rebirth of the Vanderbilt University pain management as an assistant professor. He has developed Vertex Spine & Pain in order to expand his outreach into the community. He has been a quiet leader in Neuromodulation for head and face pain.

John W. Nelson, MD

Dr. John W. Nelson is in private practice at Advanced Pain Management of Oklahoma, PC, in Okahoma City. Dr. Nelson attended medical school at the Baylor College of Medicine and completed his internal medicine residency and Fellow at Mayo Clinic, Rochester, Minnesota. He then completed his anesthesiology residency and Pain Fellow in Kansas City, Missouri. He is Board-Certified in internal medicine, anesthesiology, pain management, and is a Fellow and Examiner for the World Institute of Pain. Dr. Nelson is a founding member of The Texas Pain Society.

Rahul Mishra, DO

Dr. Rahul Mishra is board certified in anesthesiology and pain management. He completed his anesthesia training at Texas Tech University Health Sciences Center in Lubbock, TX and continued his specialization in its prestigious pain fellowship program.
Dr. Mishra earned a biomedical engineering degree from Vanderbilt University and went on to earn his medical degree from Touro University Nevada College of Osteopathic Medicine. His background in biomedical engineering and his holistic approach to medicine offer a unique perspective in the care of patients suffering from chronic pain.

Dr. Mishra treats a wide variety of pain disorders and maintains a strong relationship with his patients. He participates with activities of the American Society of Interventional Pain Physicians and American Society of Anesthesiologists while also maintaining an association with Texas Tech University as an adjunct clinical professor.