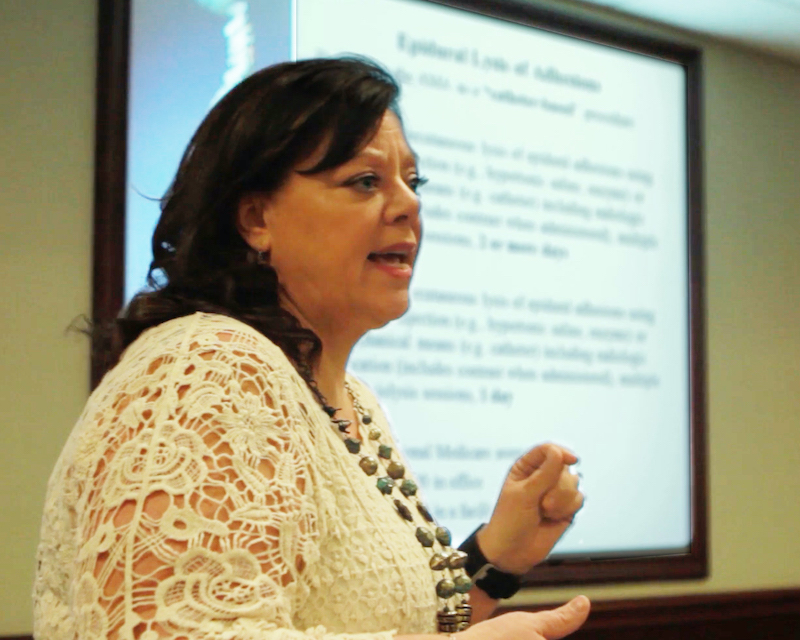 Lecture
by Luminary Physicians
Lab instructors are selected from a palate of lifelong-earned career relationships and are matched to topics based on experience and practice. They take time to explain how the procedure works, their actual patient experiences, and prognosis for successful outcomes. All attendees are encouraged to join these discussions and ask questions.
From the moment you step into the O.R., our instructors immerse you in procedure protocol. Each physician is given the opportunity to watch our luminaries work, then attempt procedures themselves under the careful supervision of the instructor.
The lectures offer decades of experience coupled with in-depth device knowledge. Our instructors are typically lifelong Epimed customers, and they've got actual experience using Epimed products.
Racz Lab provides vital information about coding and billing, payer policies, and practice management. Learn about practice marketing and building coalitions with societies to secure the long-term acceptance of the power of interventional pain medicine.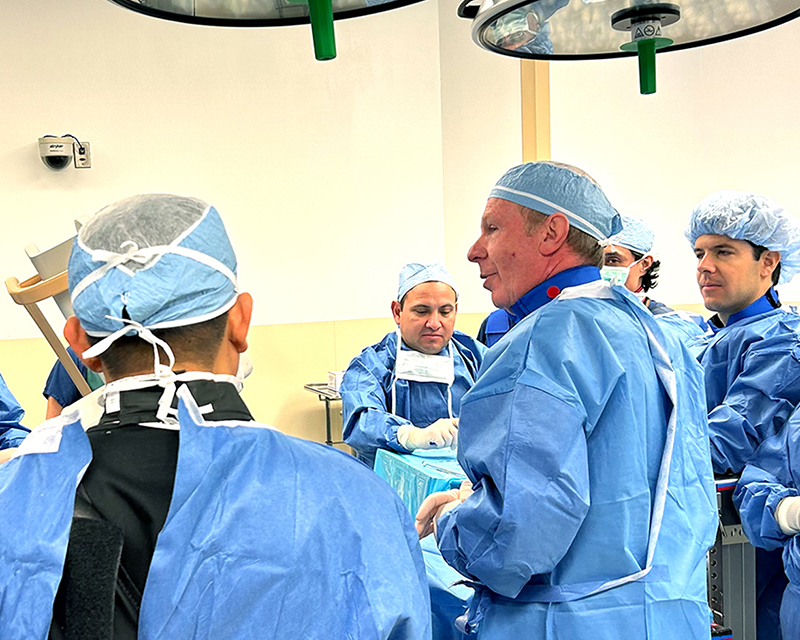 Cadaver Training
At each lab, Racz cadaver training is the centerpiece of the event. Just like we seek out and utilize the best materials for our products, we strive to acquire the best specimens for our instructors and attendees. Racz Lab uses cadavers to provide a realistic training environment.
The Lab features and introductions to procedures (led by instructors) prior to any lab work. Instructors provide attendees with a solid academic briefing, encouraging feedback and interaction from the group.
Attendees continue to praise the cooperative and supportive nature of instructors on Racz Lab post-event surveys. We hand select instructors known for patience and openness.
Pain Physicians all over the world have attended Racz Lab to learn or expand their interventional pain skill set under the instruction of Racz workshop physicians. From beginners to advanced skill levels, Racz Lab engenders a healthy and open environment for attending physicians. Our guests learn each phase of a selected procedure from a luminary pain physician and are encouraged to then practice with one-on-one guidance.
Gabor B. Racz, M.D., DABPM, FIPP, DABIPP

Gabor B. Racz, M.D. was born in Hungary and completed M.B. and Ch.B. degrees from the University of Liverpool Medical School in Liverpool, England. He served as house surgeon and physician at the Royal Southern Hospital in Liverpool before coming to the United States in 1963 for an anesthesiology residency at SUNY Upstate Medical Center, Syracuse, New York.

Dr. Racz filled numerous assignments, such as respiratory consultant in the neurosurgical head injury unit and Associate Professor at SUNY, until 1977 when he moved to Lubbock, Texas to become the first Chairman of the Department of Anesthesiology at the new Texas Tech University Health Sciences Center. He held that position until March 1, 1999 when, as Director of Pain Services, he focused his full attention on treatment of patients, expanding the operations of pain services, and the future development of an international pain institute in Lubbock, Texas.

Andrea Trescot, M.D., DABIPP, FIPP, CIPS

Dr. Andrea Trescot is a board certified Interventional Pain Physician and Director of the Pain and Headache Centers, Alaska. Dr. Trescot is the Past President of the American Society of Interventional Pain Physicians. Her distinguished resume includes Directorship of Pain Fellowships at the University of Washington School Of Medicine and at the University of Florida in Gainesville.

Dr. Trescot has authored various publications on the field of Interventional Pain Management and most recently co-authored and published the acclaimed "Pain-Wise, a Patients Guide to Pain Management" and also "Peripheral Nerve Entrapments, Clinical Diagnosis and Management."

Ira B. Fox, M.D., DABPM, FIPP, ABIPP

Dr. Ira B. Fox founded Anesthesia Pain Care Consultants in June 1996. He has spent more than 30 years treating patients with acute and chronic pain. Dr. Fox did his residency in anesthesiology and pain in New Jersey where he was chief resident.

Dr. Fox maintains five board certifications: American Board of Interventional Pain Physicians (ABIPP); World Institute of Pain (WIP) – Fellow of Interventional Pain Practice (FIPP); American Board of Pain Medicine (DABPM); and the American Board of Anesthesiology with added certification in Pain Management. Dr. Fox serves as an examiner for the FIPP Board Certification and ABIPP Interventional Practical Examination.

David Spinner, M.D.

Dr. David Spinner is Assistant Professor at the Icahn School of Medicine (Mount Sinai) and the Director of Pain Medicine and Minimally Invasive Spine Surgery for the Department of Rehabilitation Medicine (Mount Sinai); he is also the Department's new Site Director for all Downtown and Brooklyn. Dr. Spinner is the Director of Public Relations at the World Academy of Paine Medicine Ultrasonography and a Board Examiner of Certified Interventional Pain Sonologists.

He is originally from New York City and a graduate of the Bronx High School of Science. He went on to attend Emory University. While at Emory, he completed research in the prestigious applied physiology laboratory researching interactions between the musculoskeletal system, spinal cord and central pattern generation. Dr. Spinner went on to attend medical school at the New York College of Osteopathic Medicine.

Arun Bhaskar, MBBS, MSc, FRCA, FFPMRCA, FIPP, FFICM, EDPM

Dr Bhaskar is a leading international specialist in pain management with over 15 years of experience.

He has developed pioneering interventional techniques to manage pain including intractable cancer pain, as well as being involved in several clinical trials in cancer and neuropathic pain. Dr Bhaskar sits on many national and international advisory committees including serving as an advisor to NICE (National Institute for Health and Care Excellence).

Dominic Hegarty, BSc, BMedSc, MB, MSc, PhD, FCARSCI, FFPMCAI, FIPP

Dr. Hegarty is recognized as one of the country's foremost Interventional Pain Physicians. He is the holder (Ph.D., UCC), Master of Science (MSc., Edinburgh) a Fellowships in Ireland, USA (FIPP) and London (Royal College of Medicine) in the area of Pain Management. In addition to his teaching posts, Dr. Hegarty was awarded the unique position of Horary Consultant in Guy's and St. Thomas' Hospital, London. He co-founded the Division of Pain Medicine in the Department of Anesthesia & Pain Medicine at Cork University Hospital and South Infirmary and Victoria Hospital, Cork. He served as a consultant for 8 years in the Health Service Executive (HSE) before joining the Mater Private Hospital, Cork. More recently he was the winner of the 2017 Conference Ambassador Award for "Best International Medical Conference" by Failte Ireland.