Telemedicine During COVID-19 and Beyond: A Practical Guide and Best Practices Multidisciplinary Approach for the Orthopedic and Neurologic Pain Physical Examination
Sayed Wahezi, MD, Robert A. Duarte, MD, Sandeep Yerra, MBBS, Mark A. Thomas, MD, Beendu Pujar, MD, Nalini Sehgal, MD, Charles Argoff, MD, Laxmaiah Manchikanti, MD, David Gonzalez, MD, Ruchi Jain, MD, Chong Kim, MD, Michael Hossack, MD, Shayan Senthelal, MD, Ankush Jain, MD, Nathanael Leo, MD, Naum Shaparin, MD, Daniel Wong, MD, Ashley Wong, MD, Kim Nguyen, MD, Jaspal Ricky Singh, MD, Giacinto Grieco, MD, Arpan Patel, MD, Merritt D. Kinon, MD, and Alan David Kaye, MD, PhD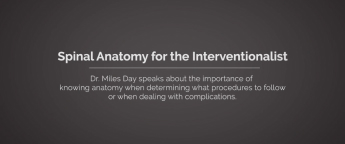 Spinal Anatomy
Learn more from Dr. Miles Day in this interview video where he discusses why it is so important for pain physicians to fully understand spinal anatomy. He discusses the three areas of the spine as they appear under fluoroscopy and the importance of correctly identifying osseous structures for safety and efficacy.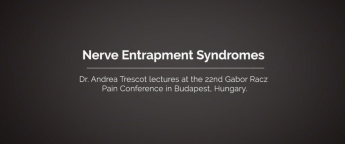 Nerve Entrapment Syndromes
In this lecture, Dr. Andrea Trescot presents on the topic of nerve entrapment syndromes. She explains the pathophysiology at both the cellular and the anatomical level. She explains the importance of a detailed history and physical exam to obtain an accurate diagnosis of the nerve(s) involved. Dr. Trescot then lectures on techniques to treat many neuropathies she commonly encounters.
X
Nerve Entrapment Syndromes
Imaging Evaluation of Low Back Pain
More Like This
Dr. Gabor Racz answers the questions most frequently asked about medicine use when performing Lysis of Adhesions.